Public Rights of Way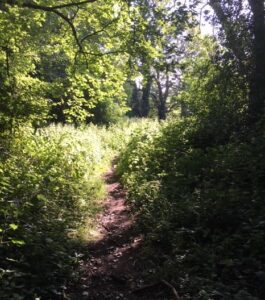 Walks in and around the parish of Herriard using Rights of Way (ROW)
Please follow the Countryside Code – https://assets.publishing.service.gov.uk/government/uploads/system/uploads/attachment_data/file/701188/countryside-code.pdf
OS Explorer 144 Map Basingstoke Alton and Whitchurch.
The Parish of Herriard situated in the North Downs has several thousand acres of farms and woodland mainly owned by The Herriard Estates. Herriard has a history of farming, largely arable but also with dairy, beef, sheep and pigs.
This means that people walking in our countryside must be aware of farming practices. Be particularly careful walking near animals, tractors and machinery near to or on tracks and footpaths. Dogs must be kept on leads or closely controlled. Keep to the footpaths, byways and bridleways and don't walk on crops or drop litter. Be vigilant walking on country roads, wearing high vis vests.  Please be respectful of landowners and farmers when using public footpaths and rights of way. Other than the car park at Herriard Green, there are no suitable places to park cars and these walks are primarily for the benefit of local residents walking from their own homes.
Manor Farm opposite the Church
 Scratchface Lane, off the A339, is a byway (open to all traffic). There is access on foot all the way to Bagmore Lane.If you walk along Bagmore Lane take great care as there can be speeding vehicles. 
There are two public ROW footpaths off Scratchface Lane:
Manor Farm to Ellisfield
Walking on Scratchface Lane, keep straight and turn right at the footpath sign, then walk alongside fields until you reach Grange Farm. At the crossroads, walk straight ahead on the bridleway to Merrit's Copse and Merrit's Farm, then right on the byway to Bushywarren Lane, or straight on towards Widmoor Farm and along Church Road to Ellisfield. Either retrace your steps or find the trail on the left taking you back to Bell Lane and Merritt's Farm. From here retrace your steps or The Three Castle Path will take you south to Bagmore Lane.
Manor Farm to Southrope
From Scratchface Lane, keep straight and take the footpath on the left walking across a field to Hurst Farm. This footpath, which is not mown, takes you across three fields, the grass is long and difficult to walk through, there may also be cows in fields. With the farm buildings on your right continue to the lane leading to Bagmore Lane. Turn left on Bagmore Lane until you reach a footpath on your right, taking you across fields to the A339 and to Southrope. Approx 1hr one way.
 Bagmore/Cold Harbour/Herriard Common
 From Manor Farm walk along Scratchface Lane all the way until you reach Bagmore Lane, turn left and walk a short way along Bagmore Lane until you reach a bridleway on the right. This bridleway takes you to Cold Harbour. On turning right on the bridleway in Middle Common Wood you reach Herriard Common woods. Continue until you reach Spain Lane, turning right along the road to a T junction with Red Lane. Turn right and immediate left onto a bridleway, either continue straight on through Preston Oak Hills to Moundsmere Farm, or after a short distance take the bridleway on the right heading back to Bagmore Lane and straight over the road onto the Three Castle Path byway to Merritts Farm . At Bell Lane turn right then left on the byway until you reach a bridleway turning right towards Merritts Copse and Herriard Grange. Approx 2 hrs
Three Castle Path from Bagmore Lane
Walk along Bagmore Lane towards Ellisfield. The Three Castle Path is a National trail on the right between Bell Lane and College Lane heading north towards Merritt's Farm.
At the end of the byway at Merritt's Farm you reach Bell Lane. Turn left continuing along the footpath to Ellisfield Church.
At the junction with Church Lane find the footpath on the right as you look at the church, known as Alley Lane. Continue across open countryside then to Allwood Copse on the left and Whinkney's Copse on the right. This takes you to Winslade and beyond to Tunworth.
Or, on reaching Church Lane with the church to your left, turn right along Church Lane to the junction with College Lane. Take the bridleway straight over and walk straight through Merritt's Copse to Herriard Grange, then the footpath at Hurst Farm back to Bagmore Lane.  Approx 2hrs
 Southrope to Humbly Grove
From the pub, walk towards Nashes Green. At the corner with Park Corner turn right on the road towards Lee Farm. Just past Lee Farm take the bridleway right. Keep going straight until you reach woods. *
Take the path right, taking you through Humbly Grove oilfield until you reach The Avenue.  Either return the way you came or walk right along the Avenue (take great care with speeding traffic) then right along Back Lane to Southrope. Approx 1.5hrs
Weston Corbett
*Take the path left to Square Lipmore and the Case is Altered, then continue along White Lane Track to Tunworth or retrace your steps.
Hale Farm
Walk along Back Lane past Hyde Farm until you reach a footpath on the left to Hale Farm. The ROW ends at Hale Farm , but there is a permissive path link kindly provided by Herriard Estate. With Hale Farm on your right walk straight on until you reach a path crossing. Turn left back on to ROW taking you to Lee Farm then follow the road to Nashes Green and back to Southrope.
Disclaimer These walks are for guidance only. In walking in and around Herriard, you agree that you do so at your own risk, are voluntarily participating in these activities, assume all risk of injury to yourself. The writers and  landowners do not accept liability for injuries caused when walking.